Private & Group Classes
Group Exercise

Xpress Dance & Fitness is now offering most forms of group exercise, including Yoga, Strength Training, Boot Camp/HIIT formats, Indoor Cycling and more! Contact us to request your instructor.
---
Dance/Dance Fitness

Ballet (Adult Beginner)
Do you want to become gracefully fit? The poise, self-confidence and discipline you gain from ballet will help you in any activity you undertake. The benefits of ballet include improved posture, increased muscular strength/tone, flexibility, coordination, balance and stress relief to name just a few!
---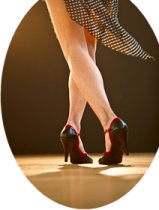 Ballroom/Latin
Ballroom dancing is a form of social or competitive partner dance. Its history traces back to the folk dances of the Middle Ages. During the Renaissance, more formalized social dances began to take place in the European royal courts. Modern ballroom dancing as we know it today originated during the 20th century, with competitive ballroom dancing or Dancesport having its first unofficial world championship in 1909!
Don't worry if you don't have a partner. Our ballroom classes are not defined by men's and women's roles. We have "Leaders" and "Followers", so that either gender can take either role! If we have an uneven number, our dance instructor will join in, so everyone will have a partner.
Cha Cha
Introduced to the US in the 1950s, the Cha Cha immediately ignited a dance craze. Characterized by vivacious movements and Cuban Motion, the Cha Cha is derived from the Chassé Mambo, in which "chase" steps were inserted between forward and back breaks when slower Mambo music was played. It is widely thought the name "Cha Cha" came from the shuffling sound of the dancers' feet.
East Coast Swing
Danced to the swing and jazz music of big bands, by the mid '30s, Lindy Hop (also known as Jitterbug and Swing) had captured the imagination of young people in the US and Europe, and was widely danced throughout World War II. In the early '40s, Lindy Hop was simplified to become a ballroom dance known as "Eastern Swing", renamed "East Coast Swing" in the 1970s. The dance is fun, upbeat, and distinguished by its bounce, "rock step" and "swing hip action".
Foxtrot
The Foxtrot was created by Harry Fox at the turn of the 20th century, as syncopated ragtime music became popular. After the Foxtrot was brought to England, the fast, jerky steps of the original were ironed out and what remains is the smooth, elegant dance that we know today. Many of the Foxtrot's patterns have been adapted from the Waltz. It can be danced to many styles of music, in a social style (mild bouncing action) or a competitive style (smoother, more Waltz-like).
Rumba
Rumba is a Latin dance with Afro-Cuban origins. By the late 1920s, America's appetite for Latin music had ignited. Orchestra leaders like Xavier Cugat popularized Rumba music and dancing, which continued to grow in the '30s and '40s. Standardized as a ballroom dance in the mid 1950's, Rumba is sometimes called the "dance of love", and is distinguished by its romantic feel and sensual hip action (Cuban Motion).
Tango
Ballroom Tango was born in the slums of Buenos Aries in the late 19th century. A highly passionate dance, the Tango was originally shunned by the "respectable classes". In the United States, Tango became the rage before the First World War, and couples began to dance the Tango between courses at finer restaurants. The dance was standardized in the 1920s by the Imperial Society of Teachers of Dancing, and is characterized by a close hold, a low center of gravity and a stealthy, almost cat-like, staccato feel.
Waltz
Until the 18th century, courtly dances had little physical contact between dancers. Everything changed with the Waltz (from the Italian word "volver" meaning to turn or revolve), which was once considered scandalous and immoral, because it was the first widely popular dance to feature a close hold, or "closed position". The Waltz was ultimately standardized with the Box pattern and the dance hold we know today. The Waltz has an elegant gracefulness, with a romantic and sometimes melancholy feel, characterized by gliding, "rise and fall" and "sway" movements.
---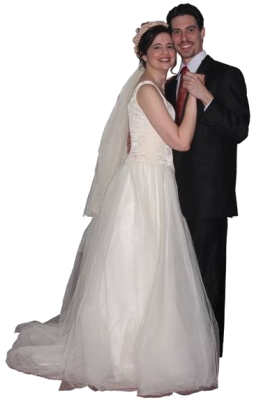 Wedding Dance
Prepare to dazzle your guests as you glide across the floor in style to your first dance! Choose a single lesson to learn some ballroom basics, or a package of lessons to polish your dancing. A custom wedding dance choreography is included with all packages of 6 or more lessons. We can also work with all members of the wedding party, including the mother/son and father/daughter! Visit our Wedding Dance page to learn more!
---

Belly Dance
Shimmies, Isolations and Undulations – Oh My!
Our beginner-friendly belly dance classes combine the energy of a fitness class with the instruction of a traditional belly dance class to give you the best of both worlds! In a fun, easy-to-follow format, participants learn proper belly dance technique, including the isolation of different muscles and parts of the body, moving them independently in swirling, undulating or staccato patterns.
In addition to gaining all the health benefits of dance, you will feel and look beautiful in every class, no matter what your shape, size or dance experience! No belly exposure necessary. Wear whatever makes you comfortable.

---

LaBlast™
LaBlast™ is an innovative partner-free dance fitness program created by world renowned dancer, coach, choreographer, Dancing with the Stars fan favorite and fitness expert, Louis Van Amstel. LaBlast is a dance based fitness workout that incorporates elements from several types of dance, including:
Cha Cha Cha - Disco - Jive - Merengue - Paso Doble - Salsa - Samba - Lindy Hop – Quick Step - Tango – Viennese Waltz – West Coast Swing
The program uniquely fuses fitness routines and movements into dance training. Music is a key component to the classes, using a wide variety of genres ranging from pop, rock, hip hop, country and disco to create a fun, energetic club-like atmosphere. The result is a high-energy experience that makes you want to dance! LaBlast is designed for all levels – from the absolute beginner to the experienced dancer.
Whether you want to tone your body, maintain a healthy lifestyle, learn to dance, or just have a great time, LaBlast offers something for everyone! http://www.lablastfitness.com
---

Zumba®
Popular the world over, Zumba® classes feature exotic rhythms set to high-energy Latin and international beats. Before you know it, you'll be getting fit and your energy levels will be soaring! For more information: www.zumba.com.
---

Zumba® Gold
Zumba Gold® uses the same basic steps and exciting Latin and International dance music (including Cumbia, Salsa, Meringue, Tango, Cha-Cha, Belly Dance and many others) as the original Zumba® program, but at a much lower intensity and with longer warm up and cool down periods. This class is perfect for those who are new to fitness, active older adults or anyone who has physical limitations and needs modification to benefit from the class.
---

WERQ™ is the fiercely fun dance fitness workout class based on pop, rock, and hip-hop music taught by Certified Fitness Professionals. The signature WERQ™ warmup previews the dance steps used in class and the signature WERQ™ cooldown includes balance and yoga inspired poses. Are you ready to WERQ™?
---
Looking for a class we don't offer? Let us know!