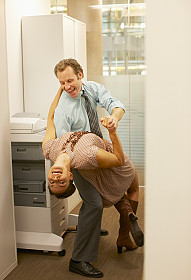 Employers:
Does your business already have, or are you considering a wellness program for your employees?
Do you want to offer your staff a group fitness class that is effective, enjoyable and affordable?
With the majority of America's 140 million employees spending a significant amount of time each week at their work site, wellness programs in the workplace have become an effective way to support people's efforts to achieve and maintain a healthy weight. The Surgeon General's Vision for a Healthy and Fit Nation encourages employers to implement wellness programs that promote healthy eating in cafeterias, encourage physical activity through group classes and create incentives for employees to participate.
We all know about the benefits of exercise, and the benefits of dance are well documented, too. But did you know that dance classes can make your employees smarter too?
Keep your employees on their toes!
Order classes a la carte, or request a quote for a program tailored to your company's needs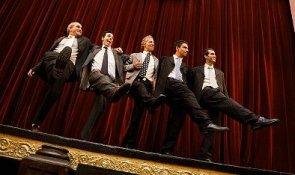 Team Building
Does your team need a morale boost? How about an ice breaker at your company party? Maybe you need to break up the monotony of a long day of planning and budgeting - or a fun way to celebrate a job well done! Whatever the reason, Xpress Dance & Fitness will provide you with the perfect team building activity.
If you are short on time, all of our classes work as team building/bonding activities. You'll enjoy a wonderful, fun-filled hour together to relieve the stress of your work day.
Conferences
We'll help to start your conference off on the right foot! Dancing is a great way to energize and motivate your team.