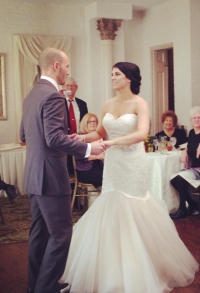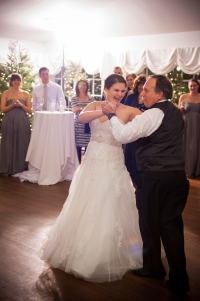 Wedding Dance
Getting Married? No Sweat!
Xpress Dance & Fitness will take the stress out of your first dance by offering custom choreography for your wedding day to the song of your choice.
Prepare to dazzle your guests as you glide across the floor in style! Choose a single lesson to learn some ballroom basics, or a package of lessons to polish your dancing. A custom wedding dance choreography is included with all packages of 6 or more lessons.
You don't have to be the wedding couple to have a custom dance. We will create Father/Daughter Mother/Son dances too! And, the entire wedding party can take lessons too, so you can all put your best feet forward on this special occasion!
Don't forget, ladies...belly dance classes are great for showers and bachelorette parties!
From a Bride:
"Amid all the craziness of wedding planning, dance lessons were not first on my list of 'things to do.' When my dad expressed his concerns about our father daughter dance, I begrudgingly signed up for dance lessons. In just 3 lessons, Jessica choreographed a custom dance for us, and it was truly one of the highlights of our wedding. She was easy and fun to work with, and she tailored her lessons to fit exactly what we needed. We are so happy to have such a wonderful experience with her, and a great dance to remember!" - Alicia Bell
From the Father of the Bride:
"As the father of the Bride, I was really looking forward to my daughter's wedding. My biggest terror however, was not the bill at the end of the affair, but the dreaded Father/Daughter dance! In 57 years I had never learned a single dance step, and was generally worried about the whole thing. In three private sessions with Jessica, Alicia and I learned to foxtrot, and she taught us a dozen or so basic moves. Jessica then custom choreographed an entire routine to Stevie Wonder's 'You are the Sunshine of my Life', and we had a great time together in front of a hundred or more guests. Dancing with the Stars here we come!" - Mike Hull
From a Groom
"My wife and I went for dance lessons prior to our wedding. We both had no experience dancing and were in need of a lot of help. Jessica was very patient with us and after a couple sessions we had a beautifully choreographed dance. I would recommend Jessica to anyone, especially couples who don't have much experience dancing but would like to do something more exciting than swaying in each other's arms. We had a lot of fun practicing and everyone loved our dance at the wedding." - Chase Wrinn